I've been MIA here for a while now. I have to admit... Facebook lured me away. I know a lot of bloggers maintain great attendance with both a blog and Facebook but I did not. I have been weening myself from way too much Facebook time after the election. I witnessed too much negativity in the midst of the campaigns. Voicing opinions and "Liking" various posts and statuses was harmless in itself. But I saw too many people taking it to a personal level... calling those of an opposite party names and demeaning them. I was heartbroken to see some posts I did. I decided I need less Facebook time and more blog time. I've missed this place. :)
In light of the tragedies as a result of Superstorm Sandy, I'm linking up and joining
A Bowl Full Of Lemons
in a series of posts on Emergency Preparedness.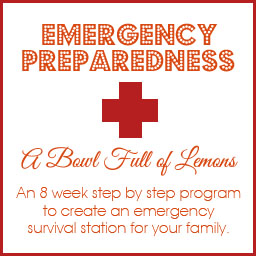 This couldn't come at a better time, after feeling the earthquake shake my house here in eastern Kentucky this weekend. It was my first earthquake experience in my 44 years. And was quite eye opening for me. I didn't see things in the house shaking. Nothing fell off the walls. But my house moved back and forth a number of times.
I've been very blessed to have never experienced any natural disasters. I've never had a house fire. I've never been in a flood. I've never had tornado, hurricane or earthquake destroy my home and life. But I have watch the horror of others in recent times and can't help but wonder... will something happen here next? Will I or others around me close be in similar situations in the near future? Will I be prepared to face it? And my answer to myself is NO. I am not prepared for any of those events. I plan to change that. Join me in getting your home... family... and life prepared should a natural (or even man-made) disaster come your way.